Paphiopedilum Orchids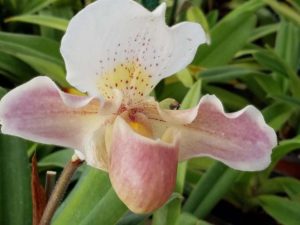 Based on conversations with people I have met at orchid shows, the lady's slipper orchids have a huge fan following. And it is no wonder. The Paphiopedilum species offers a seemingly endless variety in colors, shapes and sizes. Many plants of this species grow on the ground, rather than in trees, and the flower stalks usually point up.
If you would like to have some orchids in your home and you don't have a great deal of natural light, this species is the one for you. A grow-light will suit them just fine.
One important note: There are two major types of Paphiopedilum, one of which likes warm weather, and the other prefers a cooler climate.
Visit the website of the American Orchid Society for information about orchids and their care.
Click on a picture to see full size and description