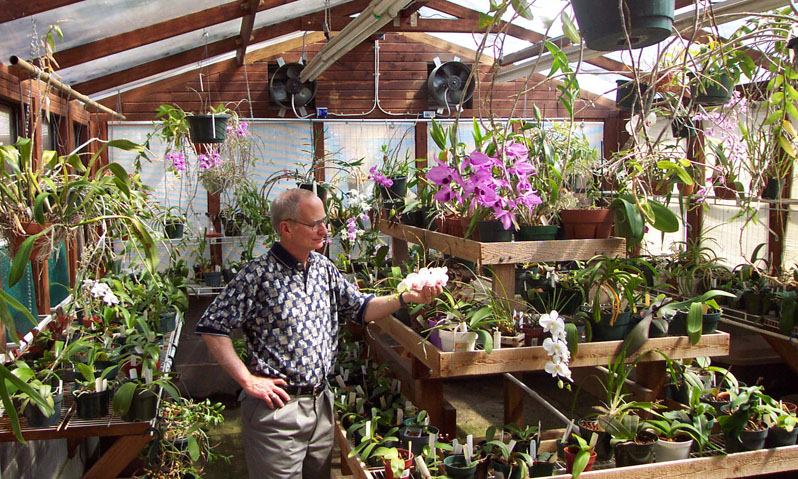 My love of orchids developed in the early eighties, when I spent more than four years on assignment in the Philippines, as an engineer with Texas Instruments. I lived in Baguio City, which is in the mountains. The beautiful climate is very friendly to orchids, and they grow in great profusion. On weekends I would visit local markets, where many varieties of orchids were for sale. They grew so well on my patio at the hotel that I kept buying local species until I had quite a collection. When I returned to the U.S. in 1985 I brought them back with me, built a greenhouse behind my house, and have been increasing my collection ever since.
My mother, Jo Hess, was a successful artist. She painted in oils and acrylics, but she was mainly known for her beautiful bronze sculptures. You can see her work at her website. After retiring from my technical career, I felt a strong desire to follow in my mother's footsteps and develop my own artistic side, and I began painting watercolors of orchids.
My friends and fellow members of the Greater North Texas Orchid Society encouraged my work and also purchased a number of my early prints. Their interest motivated me to keep painting. In the past few years I have been traveling around the southwest, visiting other orchid clubs, giving presentations, and selling limited edition prints and original watercolors, as well as orchid notecards and other orchid-related items.
If you are in the Dallas area, you may see a permanent display of my art for sale, as well as orchid notecards, at Dr Delphinium's Designs + Events in Richardson. Be sure to tour the greenhouse and marvel at the great variety of beautiful orchids Dr Delphinium Designs has for sale. The sculpture of "April", as well as other sculptures by Jo Hess, are also displayed at Dr Delphinium's.
While visiting various orchid clubs I have met many fellow orchid enthusiasts, and made a good number of new friends. I hope to also meet you, in the near future.