Greetings from your SWROGA Conservation Committee Chair!
Happy New Year to all SWROGA members. I am taking this time of the year to send out a special thankyou, and to reflect on the accomplishments of our many members who have so enthusiastically supported orchid conservation, both for the past year, and also in recent years during which I have had the honor to be chair of the committee. The orchids also thank you for your support!
Together, we have made a significant impact for orchid habitat conservation. It is time to share with you just how much we have accomplished.
We started our efforts in 2013 by supporting the expansion of the Serra Bonita reserve in Brazil. The goal of this important project is to protect the habitat of many critically endangered species, both plant and animal, in what remains of the once vast, orchid rich, Atlantic Rainforest. Through direct donations to the Orchid Conservation Alliance from several societies, from many individuals, from the SWROGA General Fund, as well as fundraising at shows, we preserved almost 30 acres. Many individual contributions were at the 1-acre level! To quote a member of the Sunnyvale Orchid Society member in far east Dallas county, "I'll buy an acre of land at $200 anytime!". And he did!
And that was just the beginning. Through fundraising projects which benefitted the Orchid Conservation Alliance (OCA), the North American Orchid Conservation Center (NAOCC) at the Smithsonian Environmental Research Center (SERC), and the Rainforest Trust, we have helped these organizations preserve well over 2,400 acres of rainforest to date. At the same time, we contributed funds to the NAOCC for their educationally important, but also incredibly cool "Go Orchid" website (a site every orchid enthusiast will want to visit). Their very innovative Orchid-gami creations have become so popular that various AOS orchid societies are partnering with the Smithsonian in creating new Orchid-gami designs.
SWROGA is now a member of the Orchid Conservation Coalition (OCC). We can now proudly join the community of conservation-minded organizations and display the familiar yellow 1% for Orchid Conservation Logo in this publication's header.
Exactly what have we accomplished? Take a look at how many acres SWROGA has saved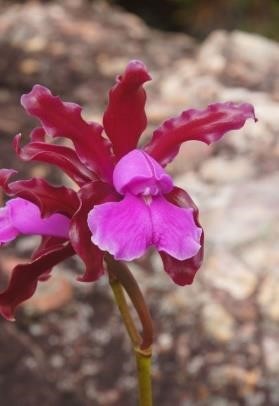 29 Acres
Serra Bonita Reserve
2013-2014
Supported 29 acres of the Atlantic rainforest in Brazil through the efforts of the OCA and the Rainforest trust' combined fundraising. This forest along the Atlantic coast of Brazil was once twice the size of Texas but is now reduced to 7% of this size. Photographer Gary Yung Gee shared his photo of this Cattleya elongata observed on an OCA Serra Bonita tour with Peter Tobias in 2014.
Projects like this show the power of diverse donor interest that collectively protect the total biosphere for all species whether orchids, birds, endangered monkeys or any number of species all reliant on each other for survival.
19 acres
Dracula Orchid Reserve
2015-2016
The Rainforest Trust worked with local partner Fundación EcoMinga to add 309 acres in the Chocó region of northern Ecuador. SWROGA initially supported 19 of these acres before other matching funds were added by the Rainforest Trust. "I've never seen so much orchid diversity in such a small area. Each ridge has its own mix of species, many of them just recently discovered. A new road built here threatens this unique area with destruction by colonization, but this reserve will save an important part of it for posterity" said Lou Jost, Director of Fundación EcoMinga.
It is a real tribute to the efforts of the Orchid Conservation Alliance and Peter Tobias that OCA was listed in the Rainforest Trust's 2015 annual report at the $50,000 donor level. Peter has strategically built up this magnificent partnership, thereby amplifying the donations of individual orchid enthusiasts. As a result of Peter's efforts and those of the Rainforest Trust supporters, this project is now 100% funded, with a total of 652 acres under protection.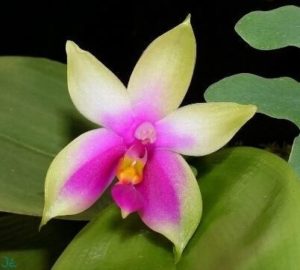 293 Acres
30 Hills and the Leuser Reserve
2015-2016
The support of these two reserves in central and northern Sumatra, Indonesia respectively came none too soon. The vast majority of Sumatra's spectacular rainforests are continuing to face destruction by palm oil and rubber plantations. Much of this destruction is driven by snack food giants such as PepsiCo's Indonesian partner IndoFood, which buys more than 470,000 tons of palm oil each year. Because PepsiCo turns a blind eye to how the supply chain is managed a great many plant and animal species are at risk. The last Sumatran orangutan and tiger species may soon be extinct, along with many of the orchid species that make up the background of valuable and increasingly rare hybrids in collections .
The Violacea species from this region of the world is one of my particular favorites. For this reason, I was happy to learn that both of these projects are now 100% funded.
This precious area contains many species, in addition to orchids. Due to the loss of habitat, these species are seriously endangered. You can read about the wide-ranging benefit of this project here and here.
1,857 Acres
Cleopatra's Needle
2016
Contributions from SWROGA societies supported 1,857 acres of expanded protection of forests in the Philippine island of Palawan, east of Borneo. Cleopatra's Needle is the name of the tallest peak on the island and is home to 85% of the endemic species on Palawan.
According to the Rainforest Trust's description of the diversity of species, these forests are ranked as one of the 15 most endemic ecoregions in the world. The Rainforest Trust website tells the story of why this region is so important as an area to be protected.
In 1983 I collected my first Phalaenopsis amablis var grandiflora on a trip to this beautiful island. Being a total amateur, I simply asked the locals for where I could find residents who grew orchids. That is how I did my orchid hunting in the Philippines.
Fortunately, the botanists with the Rainforest Trust do a better job! They do their work in a scientific and systematic manner, and they were kind enough to send some images of the orchids found in their survey. Shown above are images the Rainforest Trust scientists provided of a Trichoglottis latisepala (new color variation) and the terrestrially growing Anoectochilus species.
This project is 100% funded, putting 80,000 acres under protection.
233 Acres
Dinagat Island reserve
2016
In an effort to secure much-needed forest and coastal habitat, the Rainforest Trust is working with local partner Green Mindanao to create four new protected areas totaling 16,413 acres. "Given the global downturn in commodities, the locally progressive government is poised to seize this opportunity to work together with local mining companies for the mutual benefit of both conservation and sustainable development on Dinagat Island."
With this island's proximity to Mindanao, rich in Bulbophyllums and Dendrobiums, new species yet to be discovered are certain to be protected, along with rare and diverse animal life. This project is 56% Funded to date and is therefore and opportunity for continuing SWROGA member donations in 2017.
Dendrobium dearei was named after the explorer who collected in this area of the Philippines. Shown here is my painting of this beautiful orchid.
North American Orchid Conservation Center
Our SWROGA Conservation committee charter has traditionally focused only on conservation issues for native species in the SWROGA region. In 2015, through the SWROGA General Fund, we supported the development of the Go Orchids website expansion into species native to the SWROGA region.
Additional donations raised at SWROGA society orchid shows and individuals have helped to support the extensive research on fungi, so important to the survival of orchids. The Smithsonian Environmental Research Center is the creator and power behind the NAOCC and its vast and growing regional support network.
One of the significant success stories of the past year is the rate at which the NAOCC's Orchid-gami program has gained popularity around the world. The Fall NAOCC news update encapsulates the development and interest year to date:
We are having great success with the orchid-gami models and get very positive feedback wherever we show them … The orchid-gami project was developed by NAOCC and the United States Botanic Garden as an educational activity to provide information about the conservation status and ecology of our native orchids using models that are colorful and fun and designed to capture the imaginations of kids of all ages.

We have completed designs for 25 of our native orchids and seek sponsors to create punch-outs of the models on cardstock. The Ghost Orchid (left) has already been generously sponsored by the Naples Orchid Society, the Fort Lauderdale Orchid Society, and the Friends of the Fakahatchee. The Cigar Orchid (right) has also been sponsored by the Fort Lauderdale Orchid Society and both models are now in production. Contact NAOCC to learn more about orchid-gami, sponsorship opportunities, and how to obtain orchid punch-outs.
My wife, Trudy, and I were fortunate this December to visit the SERC facility in Edgewater, Maryland where we had the opportunity to see the orchid-gami models shown above, and to meet the people behind the creation of the NAOCC (Dennis Whigham, Jay O'Neill, Melissa McCormick). We had a tour of the facility that was most educational and enjoyable. See a slide show of SERC facility and orchid research.
Opportunities ahead for 2017
Support for Rainforest Trust projects such as the Northern Borneo Project that will study land use and deforestation from agricultural conversion. Read more at:
You are invited to enjoy a virtual visit to the Smithsonian Gardens Greenhouse Facility.
Happy New Year!