Miltoniopsis Hajime Ono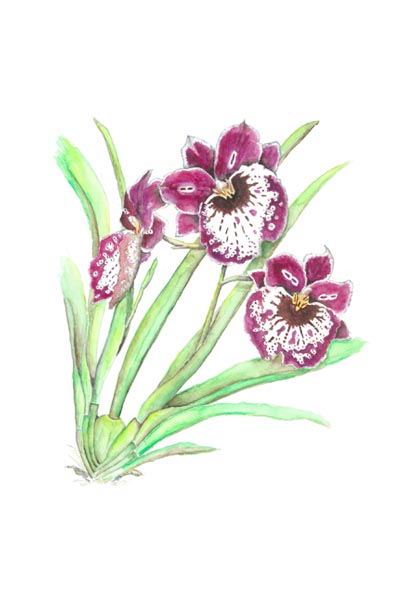 Miltonias are normally found in cooler climes than where I live (Dallas, TX). Up to now I haven't added these orchid types to my greenhouse. But after receiving several requests for a painting of one of these "pansy" orchids, I considered buying one to paint, never expecting it to last in my collection.
It happened that at the 2017 Oklahoma City orchid show on Mother's day, a very good grower of this type of orchid had a booth next to mine.
Brian Truong actually gave me this beautiful blooming plant when I asked him to recommend a good one to paint, and here is its portrait.
The serendipity is that the plant is re-blooming for me in my greenhouse. I will bring it inside when the Texas summer kicks into high gear.
Cattleya intermedia var.alba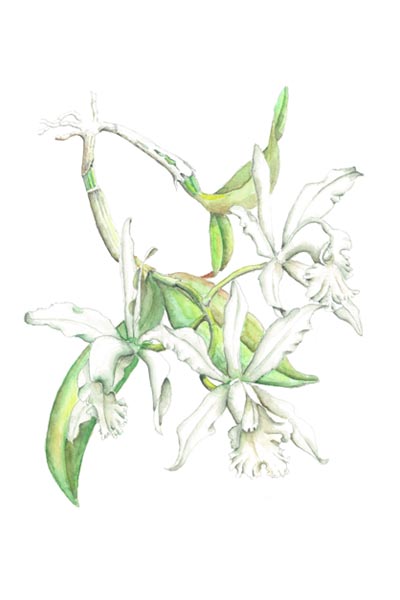 The very first time I drew an orchid in in my greenhouse was in 2002 when a beautiful white Cattleya hybrid was in its glory. It was a pencil sketch before I made the transition to watercolor.
I have been wanting to complete a watercolor of a white Cattleya for some time now and when this new orchid bloomed so well for me, I had my chance.
I like to depict orchid species as I would expect the orchid to grow naturally. I believe this presents a much more interesting composition than the usual upright "show" style of presentation on the sales table.
When deciding on my composition I try to envision how the species must have appeared when first collected in the forests of South America over 150 years ago.