Just in time for Halloween comes a new opportunity to drive a stake into the heart of habitat destruction and orchid loss, and make a score for habitat conservation.
The Rainforest Trust is working with the Fundación EcoMinga organization to establish a new orchid preserve, to be called the Dracula Orchid Reserve, in the northwest corner of Ecuador.
The proposed Dracula Orchid Reserve is located in an upland massif, and is part of the wettest forest in the world –the Choco rainforest. With some of the highest rainfall on the planet (16,000 mm annually in some places), and significant cloud cover, the climate creates a perfect environment for species of orchids to thrive.
The proposed reserve site and adjacent land was the discovery site by Alex Hirtz in 1997, and held no less than five new Lepanthes orchid species. Several Dracula species (including D. terborchii and D. trigonopetala) are also only known from this and immediately surrounding areas.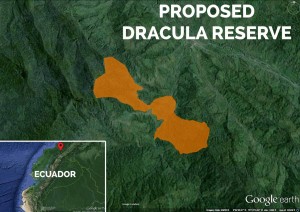 Dracula orchids are highly endemic, with 90% of all species found at three, or fewer, sites. Because these orchids are so restricted in their habitat requirements, they are inherently susceptible to extinction by habitat loss. It is speculated that 14 Dracula species have already gone extinct due to deforestation events, which is equivalent to one species becoming extinct every three years due to forest conversion.
Despite being one of the most bio-diverse areas in the world, Ecuador's Choco region is also one of the most threatened areas, with less than 10% of the original forest remaining intact, mostly due to the expansion of agriculture in the area.
Contributions from orchid enthusiasts like you will help purchase property for this reserve, and it will then be protected and saved by the Fundación EcoMinga. In addition to the existing 343 acres, 309 acres, at $190 per acres, are needed to complete the preserve.
The Rainforest Trust has made it very easy for you to help with this important project. Simply visit the website below and click on the DONATE button.

EcoMinga will staff the reserve and provide genuine and legitimate protection. In the coming years Fundación EcoMinga hopes to establish lodging facilities for eco-tourists and researchers, which will help to provide an income to help sustain the reserve's forest guard staff.
The Rainforest Trust has a long history with the Fundación, as I found out while researching the name World Land Trust US, which was renamed the Rainforest Trust in 2013. In 2007, just two years after the founding of the EcoMinga group, the WLT partnered with the Foundation and funded their first land purchase. Fundación EcoMinga has since grown as a major preserve manager in Ecuador, with four reserves in the region under their protection to date. The preserves currently managed by EcoMinga group are Rio Anzu, Rio Zuñac, Brandstand, and the Cerro Candelaria Reserve.