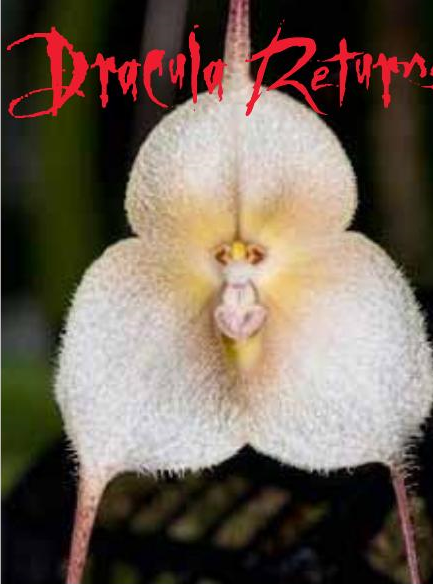 Trick-or-Treat! The news in this month's column is a special treat to all of us orchid lovers, namely that the Dracula Reserve in Ecuador, home to many rare orchid species, has acquired more land — a big boon to orchid conservation, and the conservation of many other plant and animal species.
Okay, we know it is our favorite fall season tradition and we just can't resist getting into the spirit. Halloween is right around the corner, so it's entirely appropriate to warn you that Dracula's bite just keeps getting bigger.
That "bite" mentioned above refers to an additional 1,475 acres added to the recently created Dracula Reserve originally established in Ecuador in 2014. As with this original Reserve, our friends at the Orchid Conservation Alliance are teaming up with Rainforest Trust, another familiar champion on conservation, and helping Fundacion EcoMinga increase its orchid protection in a highly diverse ecosystem. Our member societies in the South West Regional Orchid Growers Association (SWROGA) will proudly be doing our part to support this half million-dollar expansion in the coming months.
When we first joined in on the funding (2016) of the original Dracula Reserve, we did it because our support would ensure the survival of many Dracula species found only in that part of the world. The area known as the Choco Cloud Forest is rich in biodiversity, and contains species of Dracula orchids found nowhere else. The Dracula Reserve got its name because these rare orchids are the central focus of the original project.
Now we learn that the expansion of this area may contain additional surprises! Scientists and specialists who have studied the region expect that the endangered Phragmipedium hirtzii will have its habitat enlarged within its boundary. Phragmipedium hirtzii is known to exist in both Colombia and Ecuador, but the newly expanded reserve will be the only place in the world where it will have actual protection. The International Union for Conservation of Nature (IUCN), which maintains the Red List, states that "intrinsic biological factors, wood extraction by local people, destruction of waterfalls and collection by local collectors and orchid vendors" are the biggest dangers to the Hirtz slipper orchid.
We conservation minded orchid enthusiasts certainly recognize the value of partnering with Rainforest Trust, due to their diverse donor base. As the old saying goes, "there is safety in numbers". The vast diversity of species attracts a diversity of donors. Some Rainforest Trust donors are interested in a particular mammal, or maybe a species of bird. Others care about a specific plant, while still others are motivated by their desire to protect a large area from logging, mining, and agriculture.
So, along with saving orchid species like Draculas and Phragmipediums through this expansion, protecting the Critically Endangered Brown-headed Spider Monkey and Endangered Black-and-chestnut Eagle will attract donors. The Brown-headed Spider Monkey is considered to be one of the rarest primates in the world, while the Eagle is thought to have a population of only 200 adults in Ecuador. Having many donors with varied interests increases the odds that an entire ecosystem will be preserved. Members of SWROGA should be particularly proud of our contribution toward this effort.
In addition to keeping the preserve free from mining, logging, and agricultural use, the expansion of the Dracula Reserve will enhance the balance of nature within its boundaries. The reserve establishes a link to the Awa Reserve in the same cloud forest area providing a larger the contiguous area thus providing a greater the opportunity for biodiversity to thrive, for the gene pools to remain diversified, and for a healthy ecosystem to continue its existence. Larger mammal species, important in the ecological balance, and needing a wide roaming range, will be given a more sustainable environment in which to thrive and maintain the gene pool. According to Rainforest Trust, the spectacled Bear, Puma, Jaguarundi and Ocelot indigenous to the site will be able to move more safely throughout the connected conservation areas. Without this balance of nature, a long-term sustainable environment would not exist.
Where the Dracula Reserve does not have an indigenous population, the Awa Reserve, established in 1987, does. According to Wikipedia, these indigenous people
… practice a form of agriculture called "slash and mulch", which involves clearing small parcels of land (about 1.25 to 5 acres) and leaving the fallen plants and trees to decay. Within days the vegetation turns to a layer of humus, favorable for planting. These parcels are cultivated for two or three seasons, then left fallow for periods of over seven years. They practice intercropping and grow many different varieties of manioc and plantains.
This practice appears to be very similar to the farming practices of the ancient Mayan cultures. (See our October article entitled "Maya Gold".)
The Awa Reserve is the largest area of Pacific rainforest surviving today, encompassing nearly 300,000 acres. Extending all the way into Colombia, this region escaped glaciation during the Pleistocene period, and is called a Pleistocene refugium, serving as a genetic reservoir for the region.
Kudos to all the members of SWROGA who, through their local societies, contributed the funds to help make this original reserve and its important expansion possible. It is very encouraging to see that our efforts are assisting such worthwhile projects. Seeing our contributions being put to such good use will help motivate all of us to keep the momentum going.
MOTHER EARTH THANKS YOU!